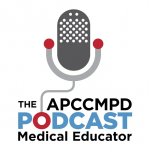 Articles Discussed:
Bios:
Hugo Carmona, MD
Dr. Hugo Carmona is a clinician-educator fellow in PCCM at the University of Washington. He previously completed his medical training at Boston University School of Medicine, where he obtained his MD, and was a resident and chief resident in Internal Medicine. His education and research interests include bedside teaching and professional development through diversity in training.
Avraham Cooper, MD
Dr. Avraham Cooper is an Assistant Professor of Internal Medicine at The Ohio State University. After completing medical school and Internal Medicine residency at Harvard Medical School and Beth Israel Deaconess Medical Center he came to Ohio State for fellowship. He has numerous undergraduate and graduate medical education roles at Ohio State including serving as Assistant Program Director of the Pulmonary and Critical Care Medicine Fellowship. He recently joined the APCCMPD Education Committee, is on the podcasting team at ATS Scholar, and co-hosts his own podcast on curiosity in medicine called The Curious Clinicians.
Jennifer Duke, MD
Dr. Jennnifer Duke received her Bachelor of Science degree in Biomechanical Engineering from Stanford University. During her transitional year, she taught high school biology and chemistry in Georgetown, Texas. She then earned her Doctorate of Medicine from The University of Texas at Houston Medical School with a concentration in medical humanities. She completed residency training in internal medicine at UT Houston and served as a Chief Medicine Resident where she received the Cheves M. and Isabella C. Smythe Endowment Award for Excellence in Resident Education. Currently, she is completing her first year as a pulmonary and critical care medicine fellow at Mayo Clinic in Rochester, Minnesota. Her clinical interests include medical education, interventional pulmonology, and interstitial lung disease. Outside of medicine, she enjoys BBQ, TexMex, Indian food, and Blue Bell ice cream (in no particular order).
Subha Ramani , MBBS, PhD
Dr. Subha Ramani is Associate Professor of Medicine, Harvard Medical School, Adjunct Associate Professor at Massachusetts General Hospital Institute for Health Professions and Honorary Professor of Medical education at the University of Manchester, UK. She received her medical degree from the University of Madras, India, completed Internal Medicine residencies in India and the US, a fellowship in General Internal Medicine at the Boston University School of Medicine, and a Masters in Public Health from the Boston University School of Public Health. Subha also has a Master's in Medical Education from the University of Dundee, UK and A PhD in Health Professions Education from Maastricht University in the Netherlands.
Her scholarly interests focus on innovative approaches to teaching, learning and assessment of clinical trainees, faculty development, sociocultural aspects of feedback, application of educational and psychological theories to educational design, and qualitative research methods.