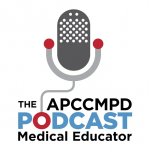 Join Drs. Rosemary Adamson and Geneva Tatem as they discuss How a Medical Educator Help Combat Racism in healthcare and medical training. Drs. Adamson and Tatem will discuss ideas on what fellowship leaders can do to advance Diversity, Justice, and Equity and work against racism.
Bios
Rosemary Adamson, MBBS
University of Washington
Rosemary Adamson, MBBS, is an Associate Professor at the University of Washington School of Medicine, Associate Program Director of the Pulmonary and Critical Care Fellowship Program at the University of Washington and Associate Section Chief of Pulmonary, Critical Care and Sleep Medicine at the VA Puget Sound Healthcare System. Her academic interests include teaching and assessing learners' skills in procedures, especially bronchoscopy, and improving healthcare provider wellness. Dr. Adamson is also Chair of the APCCMPD Medical Educator Podcast.
Geneva Tatem, MD
Wayne State University
Geneva Tatem, MD is an Associate Professor of Medicine at Wayne State University School of Medicine, Program Director for the Pulmonary and Critical Care Medicine and multispecialty Critical Care Medicine fellowship programs at Henry Ford Hospital and Associate Division Head of Pulmonary and Critical Care Medicine. Her academic interest is on process improvement as applied to medical education. She has guided each of her fellowship programs through curriculum innovations, most recently behavioral-based interviews for fellowship recruitment. Dr. Tatem is also the APCCMPD Vice President.