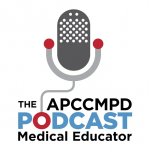 Join Drs. Rosemary Adamson and Gretchen Winter as they discuss the book How to be an Anti-racist by Prof. Ibram Kendi. In this discussion they introduce themes around how Racism is a power construct, created by racist policies; racism is all around us in ubiquitous but yet subtle ways and how opposite of racist is not "not racist" – the opposite of racist is actually anti-racist.
Bios
Rosemary Adamson, MBBS
University of Washington
Rosemary Adamson, MBBS, is an Associate Professor at the University of Washington School of Medicine, Associate Program Director of the Pulmonary and Critical Care Fellowship Program at the University of Washington and Associate Section Chief of Pulmonary, Critical Care and Sleep Medicine at the VA Puget Sound Healthcare System. Her academic interests include teaching and assessing learners' skills in procedures, especially bronchoscopy, and improving healthcare provider wellness. Dr. Adamson is also Chair of the APCCMPD Medical Educator Podcast.
Grethcen Winter, MD
University of Alabama at Birmingham
Gretchen Winter, MD is an Assistant Professor at the University of Alabama at Birmingham. She completed a medicine-pediatrics residency at Indiana University and a pulmonary and critical care fellowship at the Cleveland Clinic. Her clinical interests are in cystic fibrosis, bronchiectasis, and critical care medicine. Her research interests are patient-physician communication, medical education, and physician wellness.