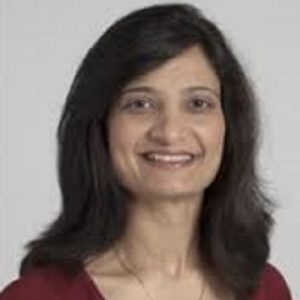 Mentorship is defined as a support to the individuals to establish their own learning goals. Mentors empower mentees to envision their learning path, develop necessary skillsets, maximize their potential, and enrich performance. The fundamental goal of fellowship programs is to provide training to be a great clinician, researcher, educator, and leader in the field. The role of mentorship in translating these outcomes is well established(1). Mentorship has been described in all arenas beyond academia, in business, sports, politics, music, etc,(2) and it has been directly associated with higher performance, promotion, higher salary, and organizational benefits both in medical and non-medical fields(3)(4).
While organizing programs for clinical, operational, and procedural training for the incoming fellows, it is equally valuable to design and embed mentorship programs in the teaching curriculum. Programs may formally pair trainees with mentors depending on their clinical and research interests and/or allow the trainees to identify their mentors over the course of their fellowship training.
Guiding Principles of Mentorship Program
The purpose of the mentoring relationship should be mutually established with clearly defined goals
An agreement of trust and confidentiality between the mentor and mentee should be established and maintained
There should be predefined roles and expectations from the mentor and mentee
There should be a formal curriculum that is agreed upon and followed by both parties
Mentors must provide quality performance assessments frequently, especially of a mentee's self-assessment
To ensure the success of trainees, and to foster our commitment to developing leaders in Pulmonary and Critical Care medicine (PCCM) and Critical Care medicine (CCM), we have designed a mentorship program for fellows in PCCM and CCM at a large tertiary care academic center. The program is designed for 36 fellows with the availability of close to 100 mentors with a varied area of clinical and academic expertise and an embedded interest in education and mentorship. One mentor has no more than three mentees at a given time. The curriculum provides fellows an equal opportunity to work with the assigned mentors and identify mentors themselves based on common interests.
Mentorship Curriculum for PCCM and CCM Fellows at Cleveland Clinic
We aspire to foster mentoring relationships right from the beginning of fellowship training. We prime the incoming fellows with our mission and initiatives towards mentorship during the interview process. We do share bios of mentors, key clinical faculty, current fellows, their respective research and career interests, with all the applicants. This provides them a forum to contact faculty and fellows for mentorship independent of their choice of program for fellowship training.
A structured curriculum for mentorship is followed from the start of fellowship training. The program is designed based on the fellowship training timeline and has predefined checkpoints to monitor the progress of the relationship, identify needs for intervention by the program leadership and assess fellow's personal and academic progress. As summarized in Figure 1, the mentorship program is well programmed in the fellowship curriculum with multiple opportunities to assess the progress and provide feedback. The program supports having multiple mentors to guide academic, clinical, educational, and career paths. The curriculum has embedded flexibility to tailor the timeline for deliverables with guidance from the mentors and the Program Directors.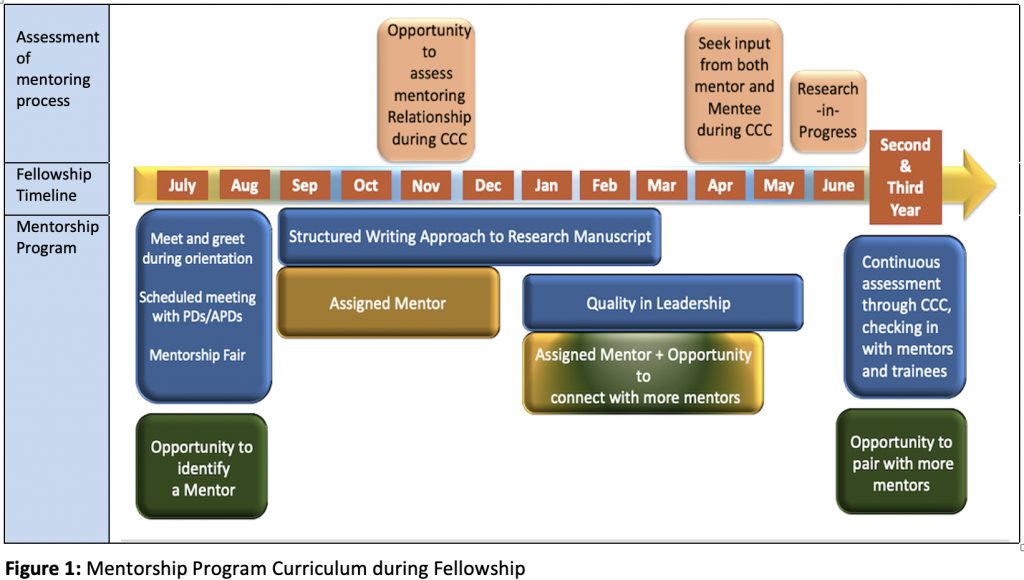 The timing of the longitudinal programs (Structured Writing Approach to Research Manuscript and Quality in Leadership) differs between PCCM and CCM programs. PCCM fellows are enrolled in these programs during their second year of training and CCM fellows during their first year of training. Below are some of the highlights of this curriculum.
Mentorship Curriculum
Meet and greet during orientation: We provide multiple opportunities to the trainees to meet with the key clinical faculty and mentors during the first two weeks of orientation, both in the formal settings as well as informally over lunch and dinner venues. The intent is to get to know each other at a personal level and assist trainees in acclimatization to the training environment, culture, and the city itself. Some of the fellows leverage this opportunity to bond with the faculty as career, life, and/or academic mentors and coaches.
Meeting with PDs/APDs: Each trainee meets with the Program Directors (PD) and/or Associate Program Directors (APDs) individually in the first month of fellowship. In addition to exploring any concerns or questions, potential clinical and research interests are discussed during this meeting. The fellows, who already have a formulated research plan, are directed to the mentors with similar interests to serve as research and career mentors. In addition to providing trainees a list of potential mentors based on their area of interest, PDs/APDs make themselves available as career mentors. This meeting helps in reinforcing mentorship support.
Mentorship Fair: This is a half a day event where key faculty members present a short synopsis of their areas of interest, current research projects, and future directions. This provides exposure to a broad range of research within the institute and helps in initiating communication with the faculty. In addition to refining the research track, this opens doors for clinical, career, and personal mentorship.
Structure Writing Approach to Research Manuscripts (SWARM): The goal of this program is to develop and foster the skills in writing research papers for publication in peer-reviewed journals. All the fellows have an assigned mentor for their project. The curriculum is based on constructivism and experiential learning principles. Learning is facilitated by individual reflections, group activities, peer, and faculty feedback.
Quality in Leadership Program (QuiL): Understanding the need for developing leadership skills at the early stages of a career, and its role in leading education, groundbreaking research and high-quality patient care for the next generation, a leadership curriculum for the fellows has been developed. The curriculum is designed principally as a leadership course that uses quality improvement as the vehicle for teaching. Four fellows are paired together to work on one project with a self-selected interprofessional team over five months. Each project has an assigned mentor to guide the fellows and reinforce leadership attributes while leading the team. Fellows interested in quality improvement continue to work on the project as their primary research project during their training time. Other fellows learn the skills needed for QI projects and utilize them for their future projects.
Later part of the training: Continuous mentorship is provided throughout the training. Fellows have ample opportunities to develop more than one mentoring relationship at any stage of their training. Closer to applying for jobs, we provide them structured guidance on curriculum vitae development, job applications, and interview processes.
Assessment of Mentoring Process
Clinical Competency Committee (CCC) in November: We encourage fellows to submit a self-evaluation report twice a year before each CCC meeting. The first self-assessment is designed to ensure fellows' smooth transitioning to new roles within clinical teams and understand any operational needs. We ask fellows to provide us list of mentors and their perspectives on the current mentee-mentorship relationship. The committee updates the fellows' portfolios with the list of mentors and their defined roles and initiates mentorship agreements. Any conflicts in the current mentorship relationships are escalated to the PDs. PDs meet with the fellows two weeks after the CCC meeting and discuss potential solutions to help them succeed in their academic endeavors.
Clinical Competency Committee (CCC) in May: Right before this meeting we do seek input from mentors regarding mentees' commitment to the relationship, progress on the clinical, research, and career efforts as well as the need for any intervention by the PDs to reinforce the relationship. The fellows' perspectives are weighted equally, and the success of the relationship is assessed. CCC reports any concerns, areas of opportunity, and resources needed to further foster the relationships to the PDs.
Research-in-Progress: In the spring of the first-year, fellows present the progress on their research project to the research committee. The presence of a research mentor is encouraged in those meetings.
Bi-Annual PD Meetings: Program Directors focus on the inclusive well-being of the fellows during their one-on-one meetings. They provide a safe environment to the fellows to discuss relationships with their clinical, personal, and career mentors. Mutually, they define strategies to maximize productivity and nurture current relationships.
Ground Rules and Agreement for Mentor-Mentee Relationships
Multiple guides have been developed to delineate effective mentorship and the role of both mentee (protégé) and mentor in that relationship(5). A mentoring agreement with clearly stated ground rules is signed by both parties. This ensures commitment at both ends, as well as serves as a guide for their formal meetings and research timeline. Together, the fellow and mentor outline career objectives, a research trajectory, and necessary education or clinical experiences to meet those goals.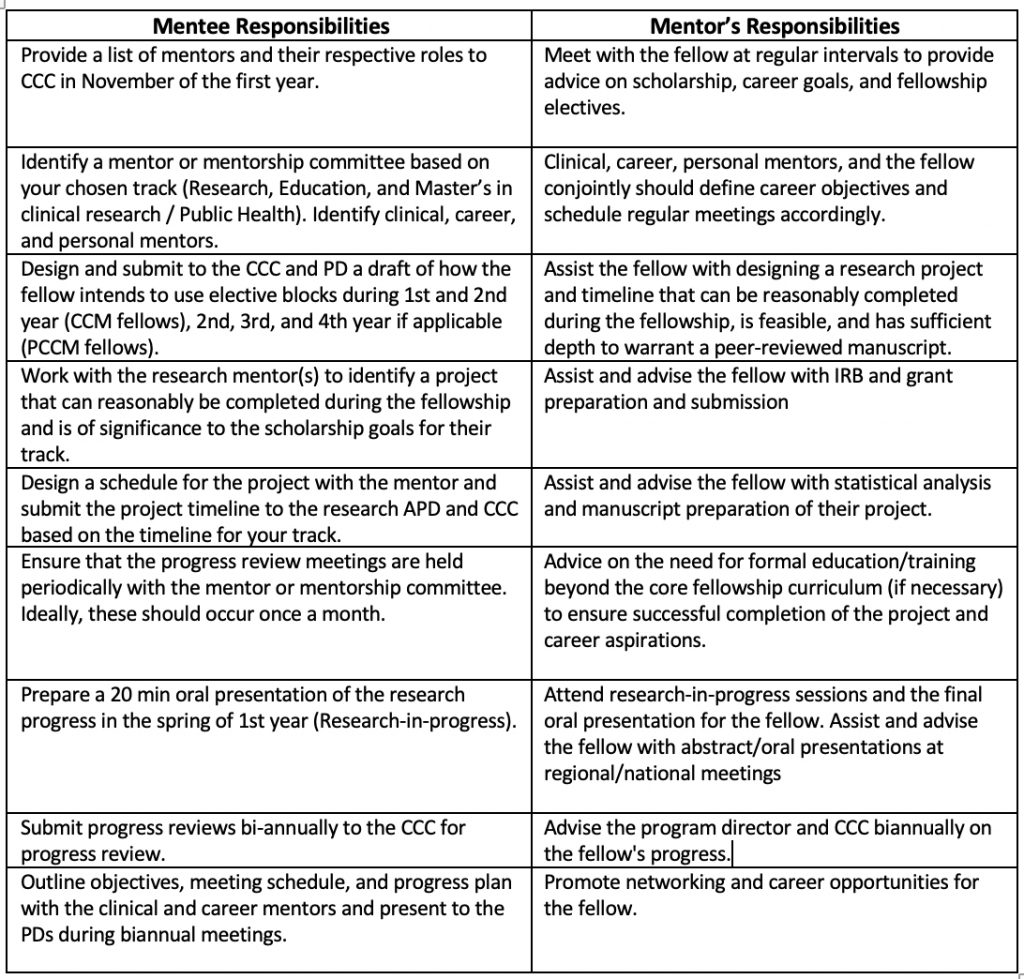 Lessons Learned
The complexity of mentoring relationships in terms of compatibility, experience, time commitment, and sustainability are the key factors to be considered while developing these programs. Alignment with the right mentor can be challenging and sometimes all mentoring needs might not be met through one mentoring relationship. The success of a mentorship relationship depends on the interpersonal match. Sometimes despite absolute alignment of research and/or career interests, the relationship might not be successful. The mentorship program should have the flexibility to waive that relationship without any repercussions(6). PDs should meet with the mentors at least twice a year to ensure alignment with the program mission, and address any concerns. Difference between mentorship and coaching should be clearly defined.
Conclusion
A formal mentorship program is essential for the continued success of any educational program. The mentors provide the expertise, guidance, and an environment that allows the mentee to develop the tools for success. Informal mentorship, life, and career coaching are equally important. A customized approach to training through a structured mentorship curriculum has been instrumental to our fellows in achieving their career goals.
References
Sachdeva AK. Preceptorship, mentorship, and the adult learner in medical and health sciences education. J Cancer Educ 1996;11:131–136.
McLaughlin C. Mentoring: What Is It? How Do We Do It and How Do We Get More Of It? Health Serv Res 2010;45:871.
Malmgren RD, Ottino JM, Amaral LAN. The role of mentorship in protégé performance. Nature 2010;465:622.
Ramanan RA, Taylor WC, Davis RB, Phillips RS. Mentoring Matters: Mentoring and Career Preparation in Internal Medicine Residency Training. J Gen Intern Med 2006;21:340.
Detsky AS, Mark F, Baerlocher O. Academic Mentoring-How to Give It and How to Get It. doi:10.2307/1981284.
Jackson, Vicki A, Palepu, Anita, Szalacha, Laura, Caswell, Cheryl, Carr, Phyllis L, Inui T. "Having the right chemistry": a qualitative study of mentoring in academic medicine – PubMed. Acad Med 2003;78:328–334.