What's an Infographic?
Infographics are graphical summaries of a topic or a concept. Based on elements of design thinking and adult learning, infographics distill complicated topics into easily digestible components. The impact of these bite-sized offerings is enhanced by visual elements (like icons) that help in "making it stick." Infographics further present an opportunity for spaced learning, a concept where educational material is delivered over periods of time to enhance learning, since they can be referenced easily on phones or over social media when the learner wants to revisit the topic.
What are Infographics used for, and why should it matter to me? 
When infographics are used to share research findings, they are often referred to as Visual Abstracts (Figure 1). Infographics or Visual Abstracts increase learner engagement with the content (including traditional publications) over social media, improve alternative metric scores, and visits to the linked research articles (1-4). Thus, they are powerful tools for promoting traditional research that further lead to opportunities for collaboration. Infographics can be used to communicate concepts, summarize guidelines, promote achievements or activities, and share announcements (Figure 2).
Figure 1: An infographic (or Visual Abstract) summarizing findings of a medical education study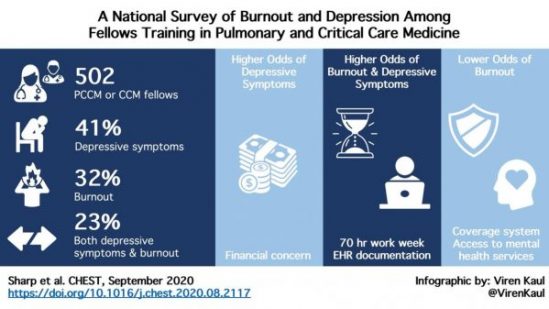 Figure 2: An infographic summarizing updates to BLS and ACLS during COVID-19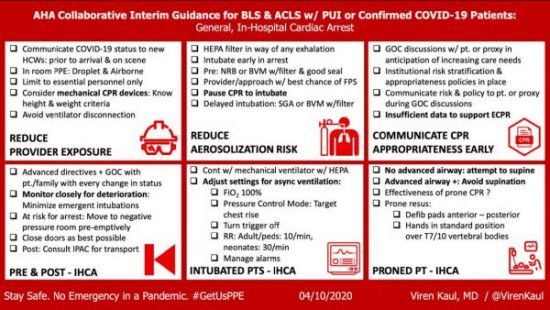 So, how do I build an Infographic?
It looks like you are ready to delve into this exciting world of visual representation of information. I have a simple six-step process to get you started. Read on!
---
Step 1: Selecting a program/platform
There are several options here. You can use websites like Canva, Venngage, or Piktochart that provide easy-to-use pre-built templates that can be modified based on your content. Most of them have functionalities that are free to use, and a lot can be accomplished with just those options. These websites are most helpful in creating infographics specific to the platform they will be shared on, such as different social media sites or presentations (Figure 3). Besides, they offer "drag and drop" functionality for various aspects of the infographic, such as icons, text, pictures, and backgrounds. Figure 4 is an example of an infographic summarizing the basics of speaking valves built with size and shape that is optimal for sharing on Twitter.
On the other hand, what I recommend is starting off with building infographics on the good ole' Microsoft PowerPoint. One of the main reasons is familiarity with the program and the versatility that we often underestimate. I will pictorially demonstrate how to plan out and construct your infographic in Microsoft PowerPoint in the following steps. For demonstrative purposes, the figures associated with each step include my attempt to build an infographic on "How to Build an Infographic." So, follow along!
Figure 3: Various template options on Canva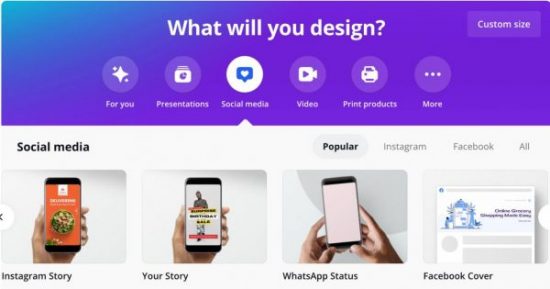 Figure 4: An infographic presenting the basics of "speaking valves" specifically built to share on Twitter.

---
Step 2: What to include (Figure 5)
Think about what you are summarizing: A publication or a concept (such as hyponatremia). Next, select the major headings, typically 3-6 of them, since this will determine how many "sections" you want to have in the body of the infographic. For each "section," prepare 1-3 high yield points you'd like to share.
Figure 5: Correlates with Step 2­—What to include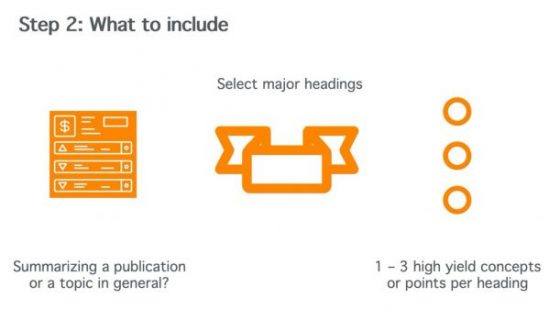 ---
Step 3: Dividing the infographic into parts and creating "sections" in the body
An easy way to split the infographic is to have a header stating the topic being summarized. The body of the infographic contains the major headings you decided on in Step 1, as well as the high yield points. The bottom bar can be used to provide references, attribute credit, mention you created the infographic as well as include institutional or organizational logos (Figure 6).
How does one create sections within the body? By selecting "Shape" from the toolbar in PowerPoint under the "Insert" tab. Selecting a rectangular shape, giving it the desired color, and placing it in the middle of the slide, creates the three parts of the infographic (header, body, and bottom bar). Introducing further rectangular shapes then splits the body of the infographic into the desired number of "sections." Figure 7 demonstrates this process step-by-step.
Now, go ahead and include your major headings (see Step 2), one per "section" followed by the high yield points for each major heading.
Figure 6: Correlates with Step 3 —Creating "sections": As noted, this infographic has three parts: the header, the body, and the bottom bar.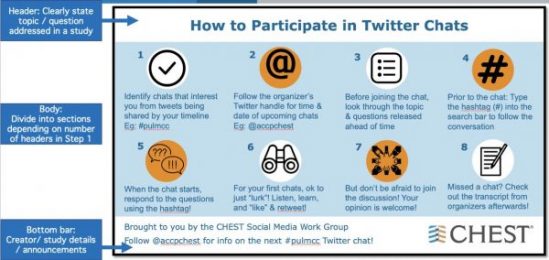 Figure 7: Correlates with Step 3—Creating "sections": Inserting rectangular shapes further divides the body of the infographic into "sections"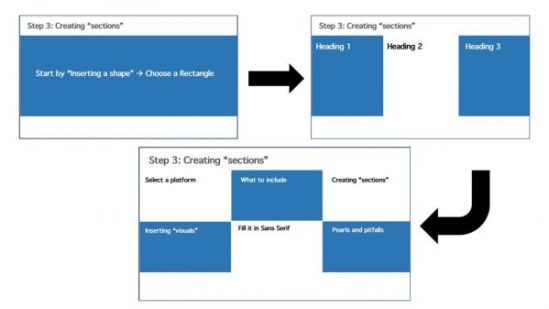 ---
Step 4: Inserting icons
If you've wondered where people get all those cool but pertinent icons, so did I. I recommend using The Noun Project to find them. They have a significant variety of medical icons available, and the yearly pricing for educators is very reasonable. Such a lifesaver! As you can see in Figure 8, I've inserted relevant icons in each of my "sections." These visually enforce the point I am trying to make with each major heading!
Figure 8: Correlates with Step 4—Inserting icons: Each of the "sections" for my infographic now contains the major heading with the related high yield points. Note the icons in the lower right corner of each "section"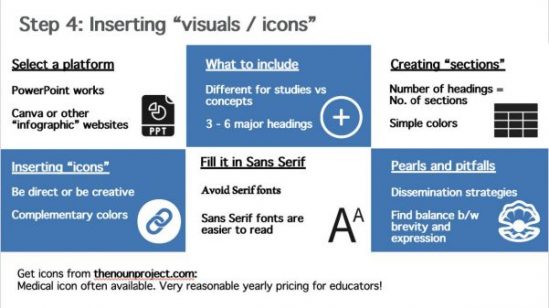 ---
Step 5: Selecting the right font
This is an understated art! As seen in Figure 9, Sans Serif fonts (such as Tahoma, Verdana, Helvetica, Calibri) lack the overhangs on alphabets and are easier to read than Serif fonts.
Figure 9: Correlates with Step 5—Selecting the right font: Serif fonts have overhangs on alphabets and letters, making them hard to use. Using Sans Serif fonts (such as Tahoma, Verdana, Helvetica, Calibri) is advisable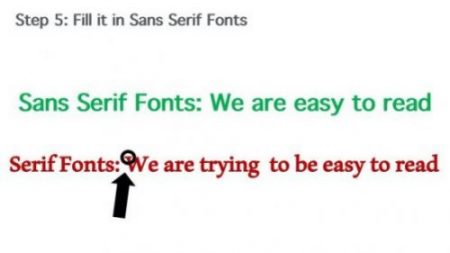 ---
Step 6: Pearls and pitfalls
Always be mindful of copyright and licensing issues. If you are using an icon or a graphic, always ensure it is from a source that allows open access use. Therefore, I suggest using The Noun Project or a similar source instead of Googling for these visualizations.
Disseminate your work with a purpose. Think about where you have the biggest and most engaged audience: this could include your trainees on rounds or your followers on social media. Make sure to attribute credit appropriately. When posting on social media, tag other collaborators and even an organization (eg, APCCMPD for #MedEd infographics) or a journal (especially if your infographic summarizes a study published in the said journal).
Finally, get comfortable with whichever platform/website you start using. Check out the various features available on there. I take inspiration from all the fantastic work my colleagues do and unabashedly seek advice on how to improve my work; it is the best way to grow!
---
References: