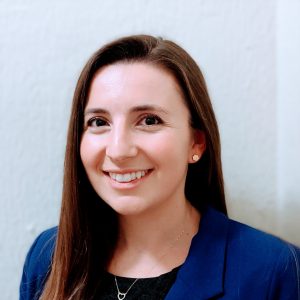 I started PCCM fellowship with an interest in clinical teaching and education research, and a desire to focus my career on medical education. I chose a fellowship that was open to new ideas and supportive of unique areas of research interest, but not one with a defined pathway for med ed. I knew from the start that I would have to be a trailblazer. Along the way, there have been wrong turns, false starts, and even a global pandemic that has completely changed the face of medical education. Despite this, I have had experiences that have been both enriching and exciting and have enabled me to realize my goals. Now, I am at the point where I can share my perspective on the process in a way that I hope may be helpful to new fellows who find themselves in a similar position. This is an outline of how to make your own pathway in medical education during fellowship and how to position yourself to accomplish your med ed career goals.
Early Fellowship: Scoping Out the Field
Your goal early on in fellowship should be to become well-trained in pulmonary and critical care medicine. Building a pathway to explore your interest in medical education should be secondary. In the beginning of fellowship when you have some free time, start looking for people, events, and programs related to medical education at your institution.
People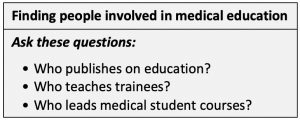 First, find out who is interested in med ed around you. Ask colleagues for names of people involved in medical education. Search the faculty bios on your hospital and med school website and look for publications associated with your institution. Keep track of these people and make a mental list for later.
Events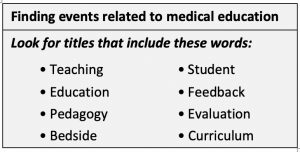 Next, keep an eye out for any events related to medical education. Does your PCCM division or the department of medicine have faculty development courses for educators? You can also look at medical school programming: are there any courses, workshops, or talks at the medical school about education? Look for virtual forums and lectures that have become increasingly present in the education landscape. Attending these can sometimes be easier to fit into your busy clinical schedule than in-person events. Ask your program director to forward you any information they receive about virtual med ed events; you may be surprised by how many such events are occurring all around you.
Programs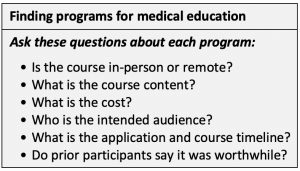 Finally, look for any structured medical education training programs at your institution, nearby institutions, or that are available remotely online. Decide if you would benefit from training on education (eg, teaching, curriculum design) and/or research methodology (eg, qualitative analysis, survey design). Pay attention to which courses cost money and also try to learn any requirements for participants (stage of training, institutional affiliation, etc.) to determine if you would be eligible to apply. If you know anyone local who did the program in the past, talk to them and ask about what was good and bad. Ask them if they would do it again; was it worth the time and effort?
Mid-Fellowship: Organizing a Plan of Action
Towards the end of your first year of fellowship is a good time to start talking to people about your interest in med ed as you build a plan for going forward. Your goal should be to accomplish the following during the first half of your second year: (1) find at least one mentor, (2) create an outline of a feasible research project, and (3) solidify a plan for additional education or research training if necessary.
Finding a Mentor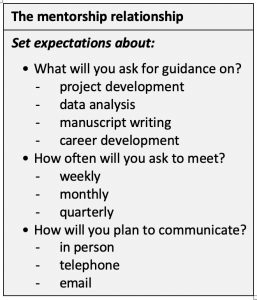 To accomplish these objectives, start by talking to individuals on the list of people that you made earlier in fellowship. Finding a mentor (or mentors) is important. Remember, you need to feel comfortable reaching out to a mentor at the last minute and asking for help, because both will inevitably happen. You want to find someone who is able to guide you as you start out in your career through their own accumulated experience. Make sure to give an opportunity for a potential mentor to say that they do not have the bandwidth to do it; you do not want to end up with a mentor who is not able to provide the support you need. I ended up finding multiple mentors with different characteristics (subspecialty, institution, seniority, area of expertise) to help me with different aspects of my professional development. It was great to have a number of individuals with different areas of expertise and perspectives, but it was also challenging. As a mentee, it is easy to get lost in the shuffle with too many advisors and so I had to learn quickly how avoid this. The key is to be organized, take initiative, and be present with your mentors. It your responsibility as the mentee to maintain the mentorship relationship and set expectations.
Making a research plan
Decide upon a research project with the help of your mentor, and when designing this be sure to consider the timeframe that you have to work with. We all tend to think big and try to take on more than possible, but the ability to narrow the focus of the project is important. Sometimes it takes someone else to tell you that your project is too ambitious for the time you have. Do not forget to take into account the IRB process (which is always longer than you anticipate), the time it will take to schedule any educational interventions (asking house-staff and faculty to commit to participate in anything extra like focus groups or workshops can be a logistical minefield), and any deadlines for presentations or conferences that you hope to attend. Use the fact that we know that social distancing and remote working are necessary and essential during a pandemic. Think about contingency plans for adapting your research to a virtual space and incorporate this into your IRB application.
Additional training
If you think you need extra specialized med ed training and can reasonably accomplish this in the time you have in fellowship, this also should be incorporated into your project timeframe planning. I decided that I wanted to get training on methodology for education research and chose a program affiliated with the local medical school. Find a program that is low to no cost with a schedule that allows you to maintain your other responsibilities (e.g. clinical time), and ideally that has past participants known to you who report that the program is worthwhile. I found becoming part of a program like this was meaningful on many levels; not only did it allow me to acquire important skills for conducting education research (e.g. how conduct a focus group, create a high quality survey, and design a qualitative study), but it also added some structure to my week with regular class time. Most importantly it helped me to become part of a medical education community that I would otherwise not have known existed. The benefit of finding or building this kind of community cannot be understated, there is nothing as difficult or demoralizing as feeling as though you are alone in your endeavors in research and education.
Later Fellowship: Making it Work
This is the time to actualize the plans you made with the help of your mentors. Doing so requires careful organization of your time and an ability to self-direct your own learning. Do not get stuck planning forever, start your project even if you are only ready to do the first step (e.g. begin the needs assessment). The experience will be invaluable, and you will be able to learn from your mistakes. This is a time that regular meetings with mentors can be most helpful. Set an agenda for yourself in advance of each conversation. At the end of each meeting, tell your mentor what you want to accomplish next so that you are accountable for making progress. Make sure to talk about the roadblocks you encounter (there will be many) no matter how mundane or unavoidable they seem; you may be surprised to learn from your mentor how to navigate around or through these situations. There are always setbacks, but it is often possible to find a silver lining to even the most epic failures. For example, when a global pandemic halted planned qualitative data collection, I was able to use virtual modes of data collection that have ended up being even more convenient for participants than their in-person counterparts.
This part of fellowship is also an ideal time to take on some extra teaching roles for med students and/or house staff. Make yourself known as someone who is interested in medical education. Hone your ability to teach. Being a clinician educator is part of any early career in medical education, even if you plan to focus on research. Practicing your skills will help you improve. Additionally, having invited talks or recurrent teaching gigs on your CV helps to demonstrate your commitment to medical education. Finally, be sure to make your research project count as much as possible; even when the project is ongoing you can present pilot studies or preliminary data at local or national meetings and add these to your CV.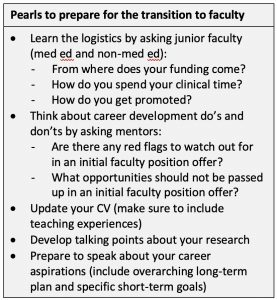 As you near the end of fellowship and begin thinking about next steps, it is important that you can clearly communicate you career goals both on paper and in person. Get used to talking about how you want to incorporate medical education into your future career and start learning about the logistics of how you can accomplish these goals as junior faculty. Set up meetings with mentors explicitly dedicated to discussing the next step(s) in your career development. The transition from fellow to faculty can be one of the most challenging transitions for physicians for a multitude of reasons. If a career in medical education is your goal, your work at carving your own pathway incorporating medical education into your fellowship experience will serve you well going forward. You will have a CV that demonstrates your commitment to med ed, a research project that illustrates your ability to actualize a plan and overcome challenges, a mentor who supports your growth and career development, dedicated additional training to prepare you to meet the challenges of your chosen field, and most importantly a medical education community to support you through the process as you move forward in your career.