Introduction

I've equated working during the COVID-19 pandemic in NYC to a war. Bombs might not be dropping on us; but life as we know it has been transformed. And for most of our trainees, this is a first brush with living and working in a war-zone. Here I provide a perspective from a Fellowship Program Director (PD) in the epicenter of the COVID-19 pandemic in supporting my frontline trainees before and during the peak of this crisis.
Our Pre-pandemic Baseline
We are normally an 1,100 bed hospital with 18 PCCM fellows, out of which two fellows are assigned to a 14-bed MICU and one fellow to a 14-bed step-down unit in 12-hr shifts on weekdays, with a supervising PCCM attending in each unit. We do not have a night float system since a nocturnal intensivist covers both those units from 7PM-7AM. We only have one MICU fellow on weekends and no step-down fellow (attending only). There are separate fellows rotating on the inpatient pulmonary consult service, bronchoscopy service, physiology, sleep, out-patient faculty practice, electives and in non-medical ICUs. All the third-year fellows have a research year.
Our Surge Planning: A Broad Overview and Recap
On March 7, 2020, New York Governor Andrew M. Cuomo declared a disaster emergency in the state. Not truly understanding what this would mean for our fellowship program, we started with making a backup "sick call" schedule on March 9th in case any trainee fell sick or ended up in quarantine. We moved all our in-person conferences, meetings and lectures to an online platform. Within days it became clear that this rapidly unfolding scenario would require a proactive approach towards surge planning.
By March 16, 2020, we had preemptively abolished the following rotations: physiology, sleep, outpatient faculty practice, non-medical ICUs and research electives to free up the fellows. Next, we cancelled the ambulatory fellows continuity clinic and assigned one fellow per week to receive and handle all the outpatient phone calls. All nonessential travel for both fellows and faculty was suspended. We pivoted the entire fellowship towards staffing the multiple COVID-19 ICUs that were to open up in preparation.
By March 23, 2020, the 24/7 staffing requirements of COVID-19 ICUs meant some of our fellows were shifted to a nighttime pool. All vacation time for faculty and fellows was officially cancelled.
By March 30, 2020, we had reached an "all hands-on-deck" situation as more and more floors started being converted to COVID-19 units. We staffed the COVID floors with faculty and hospitalists while maximally utilizing our fellows in COVID ICUs. The inpatient pulmonary consult service and bronchoscopy rotation were collapse into one as non-COVID business dropped off.
By April 6, 2020, we were definitely hitting the peak of the pandemic, including the peak of our weariness, fatigue, stress, anxiety and worst of all–colleagues becoming sick with the illness. A timeline of fellowship-related operational changes is noted in (Fig 1).

Fig 1. PCCM Fellowship Operational Changes Timeline
Before the flattening of our curve was noted around April 13, 2020, our hospitalized patients had exceeded 2,200 in number, including >500 patients in our multiple ICUs across Mount Sinai Health System (Fig 2).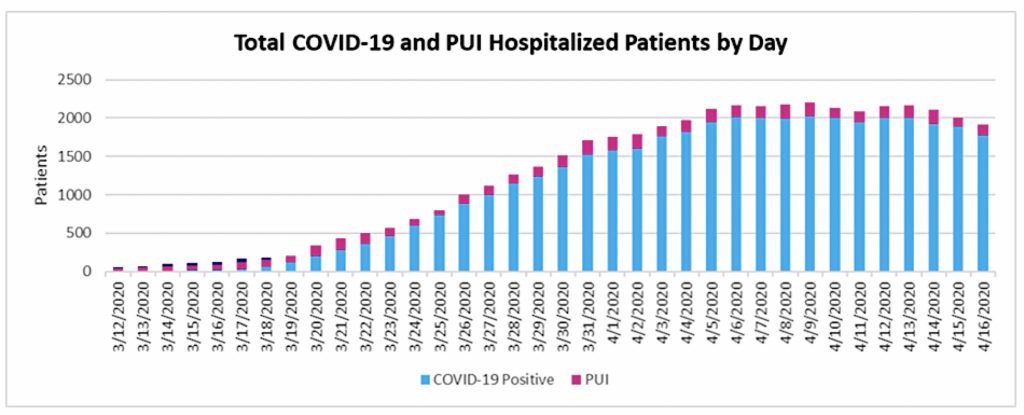 Fig 2: Mount Sinai Hospital System COVID-19 Census (includes ICU patients)
Below I note, based on my personal experience, how the anticipatory planning within our training program helped me, my trainees and our division survive the "curve." I finally started smiling behind my PPE as we started climbing down our mountain by late April. My perspective on supporting my trainees during the lead up to this peak is as follows:
1.  Preparing for Meeting Physiological Needs During the Surge
This was my motto: Don't be fancy, simplify and go back to the basics, forget business as usual and pivot to the bottom two tiers on the traditional Maslow's Hierarchy of Needs (Fig 3).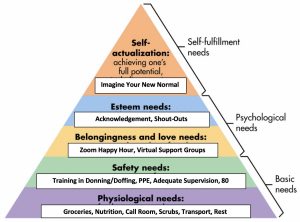 Fig 3: Maslow's Hierarchy of Needs- Re-imagined for Trainees during Covid-19 Pandemic
A.  Food, Water, Nutrition
Questions I asked:
• Do my trainees have access to grocery stores?
• Are their fridges stocked?
• Will my trainees get adequate nutrition and hydration at or away from the hospital?
Solutions Devised: We rallied well-wishers and friends, as well as starting online and social media funding for non-perishable food items, grocery and ready meals for donation and delivery.
Results: Boxed lunches and dinners, food bowls and snack bags were delivered to on-call trainees deployed to COVID floors and units on most days of the week. There was a huge outpouring of support from various organizations, friends, and online campaigns such as https://www.gofundme.com/f/feed-our-intensive-care-unit-icu-teams?utm_source=customer&utm_medium=copy_link-tip&utm_campaign=p_cp+share-sheet
B.  Shelter and Transport 
Questions I asked:
• Do my trainees have access to call rooms, scrubs and laundry?
• How will my trainees travel if public transport shuts down?
• Will my trainees have a place to stay in between shifts?
Solutions Devised: We prioritized call-room and scrubs-machine access for trainees with GME office and solicited donations for mattresses, pillows and blankets from well-wishers and online campaigns. We explored discounts with ride-sharing services, car rental companies and shuttle services, and with local hotels for accommodations. I always maintained a "shadow call schedule" of  backup trainees who live within walking distance.
Results: We had donations of scrubs, mattresses and call-room supplies from friends, well-wishers and through online funding campaigns. Generous offers were received for free rides from local car rental and ride-share companies (Revel, Hertz, Uber, Lyft, Citi Bike). We made free parking available on-campus for those driving in. Free accommodations were arranged from local hotels and businesses (Four Seasons, Airbnb) for health care workers.
C.  Safety and Security 
Questions I asked:
• Is there adequate PPE availability?
• Have my trainees received training in correct donning-doffing of PPE?
• Will my trainees receive adequate supervision during deployment to unfamiliar floors, sites, units?
• Will there be adequate rest periods between deployment shifts?
Solutions Devised: PPE donations were solicited from well-wishers, friends, and via social media campaigns online. We tapped local construction companies as suppliers. Our faculty observed in-person and online training of correct donning-doffing technique by trainees. We allowed cross-disciplinary supervision amongst deployed faculty members for trainees on unfamiliar units. I rigged a "double back-up" deployment schedule to allow rest periods for trainees.
Results: Within the first few days of the outbreak, all trainees successfully completed training in PPE donning and doffing. Our PPE supplies never reached below "critical low" owing to the herculean system-wide effort and actions of our proactive divisional leaders. Trainees shared supervising faculty across multiple specialties and units which lessened their fear of redeployment to unfamiliar sites. The "double-back up" schedule allowed rest periods for deployed, sick or quarantined trainees while still sticking to 80-hr. work weeks (averaged over 2 wks).
2.  Information and Communication
A. Flow of Information 
I equate a rumor to a tumor. It needs to be quashed decisively, quickly and early. Due to the unprecedented nature of the crisis, every few days a new doomsday rumor can take hold. To preempt a contagion effect, I was very proactive in managing the flow of information upfront.
Solutions Devised: We hosted a virtual town hall between trainees and the divisional leadership to address concerns surrounding PPE, work hours, supervision, deployment, and other concerns on a weekly basis. This effectively replaced 30-mins. of a prescheduled conference/didactic time within this virtual town hall, with no added time burden. Due to the rapidly changing conditions, I hosted virtual "business meetings" with the Program Director and Associate Program Director. This turned out to be a vital lifeline for the flow of high-quality information straight from leadership, allowing transmission of useful information while actively squashing flawed speculations.
B.  Frequency of Messaging
There is a sweet spot regarding the right frequency of messages. Earlier in the pandemic, trainees were inundated with almost hourly COVID-related emails from professional societies, the State Department of Health, the GME office, the hospital-wide system, the department, the division, an occasional unsolicited recruiter, not to mention family and friends. The burden of keeping up with this onslaught of emails was not sustainable.
Solutions Devised: I started bundling my multiple messages together in ONE email and slowed down the frequency based on which part of the "curve" we were in: from BID-TID in beginning of pandemic to once a week as the curve flattened. I also leveraged the fellows' WhatsApp groups instead of emails for non-time-sensitive or funny messages and utilized the Chief Fellows to disseminate routine information. Trainees who were in self isolation/quarantine/rest periods were tasked  to curate multiple sources of rapidly evolving information into one shared online folder for easy access for everyone else in the division effectively acting as "CME" for all of us.
3.  Educational Mission
Social distancing measures required moving to virtual platforms for all meetings and conferences. Due to massive upheavals in trainee schedules, the educational mission of the training program would have been the first casualty. Trying to maintain an educational structure for some semblance of normalcy required creativity.
Solutions Devised: I let the trainees determine their appetite for educational programming in the setting of their new deployment to COVID units. I would ask them "what would you prefer?" and then went with the majority vote. I adhered to a majority of their scheduled didactics and conferences via virtual online platform at the beginning of our surge since my trainees were definitely hungry for continued educational structure. However, as we reached the peak of our surge, we scaled back and cancelled a couple hours per week, again based on their preference. I enlisted self-isolating/quarantined but healthy faculty members who were working remotely to be the Journal Club preceptors and lecturers. This unburdened the clinically deployed faculty members from educational duties. I utilized immunosuppressed, pregnant, self-isolating/quarantined healthy trainees to prepare presentations and unburden clinically deployed trainees. We made all Journal Club, lecture and case conference topics relevant to current pandemic and suspended regular trainee/rotation evaluations. However, per ACGME suggestion, I let trainees opt-in for maintaining self-assessments diaries.
4.  Scheduling
Working in a crisis meant that trainees needed to understand the master schedule of rotations ceased to exist. A new "rotation" schedule (ie, deployment to COVID floors and units) meant they had to be flexible. It also meant the COVID deployment schedule would change rapidly from week-to-week as the surge demands changed, so they could not get attached to one version of the schedule.
Solutions Devised: I set expectations early before the surge that vacations would need to be cancelled, contingency plans will need to be made, and schedules will change often. This mentally prepared trainees to expect uncertainty and demonstrate flexibility. I warned everyone not to get attached to any current version of the deployment schedule as the needs and demands changed frequently with the unpredictability of the surge and accounting for variability in the workforce. I always had two backup contingency plans ready in case trainees got taken out of circulation due to exposure, quarantine, illness or fatigue. I launched anticipatory planning–prepared for the worst, hoped for the best–which mitigated any last-minute panic or scramble for coverage. This involved always staying two steps ahead of the anticipated need. For example, if I thought the MICU needed two fellows, I would always plan to have three available just in case. As our training program shifted to being completely in-patient due to deployment on COVID floors and units, the ambulatory piece had to shift to tele-health. I leveraged immunosuppressed or pregnant trainees to handle this piece and unburden clinically deployed trainees. Ensuring equitable distribution of work with built-in rest periods to be fair to all. This helped negate any rumblings of favoritism or dissent in the program. I stayed up-to-date and adhered to ACGME guidelines and pandemic policies for trainees regarding prioritizing PPE availability, supervision policy and 80-hr. work rule. Incorporating trainee feedback about what was or wasn't working about our staffing and constantly reconfiguring the schedule based on their suggestions really helped mitigate any disgruntled trainees.
5.  Role modelling
The role of a Program Director is complex and includes being a leader, friend, cheerleader, mentor, coach and guide, but above all, a role model. Having high expectations of trainees during crisis operations also meant leading by example ie, "leading from the front" and role modelling with "deeds not words".
Solutions Devised: I worked alongside trainees by being in the trenches, avoiding an "ivory tower" situation, and living into the responsibility that comes with power. I showed my face (masked of course) daily and often: absent leaders aren't really leaders in a crisis scenario. I encouraged self-care, focusing on adequate sleep, nutrition, meditation practice and exercise as priority. My message was clear: "self-care at this time is neither a luxury nor selfish, it is a necessity." We leveraged available social workers and mental health counselors for virtual support group sessions which were voluntary for a "drop-in." I embodied positivity and mindfulness to improve resiliency to stress and augment their capacity to focus and pay attention. Social connectivity in the era of social distancing was emphasized  such as "Zoom happy hours." I always included motivational quotes at the end of meetings or emails for a morale boost. For example, "Life is never made unbearable by circumstances, but only by lack of meaning and purpose." ~ Viktor Frankl
Conclusion
During this fight of our lives, I finally understand this one true fact: I have been training my entire life for this moment. My motivation for writing this Perspectives piece is to share lessons learned from the battleground. I believe our program has survived the "curve" and so can yours. Use my experience to prepare for yours. Reimagine Maslow's Hierarchy of Needs for Trainees during the COVID-19 pandemic (Fig 3).
Plan early, plan often, over-plan!
Don't get too attached to the plan however. Stay nimble!
Differentiate between the "nice to have" vs the "must have".
Manage your own anxiety, don't project onto the trainees!
Lean on one-another (six feet apart)!
"You have been assigned this mountain to show others that it can be moved"