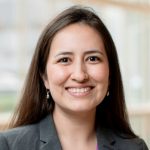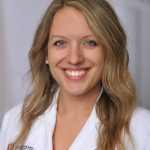 Congratulations to those who recently matched into pulmonary and critical care! In the coming months, you may find that a feeling of anxious anticipation encroaches on your current level of excitement and relief. That is perfectly normal and will hopefully be abated by these suggestions. You will first find a few suggestions about what to do between match day and the start of fellowship, then the rest of the information will pertain to adjusting to life as a fellow.
1. Prepare to be in a new program and possibly a new city.
If you are staying locally, your preparation is fairly simple, but now could be a good time to review finances and evaluate your insurance and retirement funds. Check out the White Coat Investor website if you are interested in physician-specific advice. But for those of you who will be moving, there is more to consider, such as credentialing and the actual move itself. Anticipate the timeline for credentialing, as it averages 3 months but can take up to 6 months. Meanwhile, prepare for the move. The United States Department of Transportation has a helpful website for those of you moving across states lines, as moving fraud more often occurs in these situations.
2. Prepare to be a fellow.
Brush up on specialty-specific skills and address knowledge gaps, perhaps referencing your in-service exam for guidance. Seek out procedural opportunities, whether they be in person or via simulation. Potential avenues to accomplish this include the American Thoracic Society's Resident Boot Camp or opportunities at your own institution such as an Airway Elective or Pulmonology Elective.
3. Around the time of starting, remind yourself what your program has to offer.
You may match at your home institution, where you already know the ins and outs, or you may be one of those people with a memory like a steel trap. But for those of us who are mere mortals and programs started to blur together by the end of the interview season, now is a good time to refresh your memory. Remind yourself what tracks (scientist vs educator vs clinician) are available at your new program. Look up faculty profiles on the fellowship website, particularly if research track mentors or available research is delineated. Find out what teaching curriculum is present at your institution. Who is responsible for teaching residents and students on your rotations? Are there curricula to address? What are the methods of evaluation? Some of this you can find ahead of time, but most will come after starting fellowship. In fact, orientation itself and the opportunities you get to interact with current fellows will likely be your best source of information. Garner this knowledge deliberately, as this will allow you to immediately begin making the most of your time as a fellow.
4. Establish expectations.
Reminding yourself what the fellowship program has to offer will help you set expectations both for yourself and for others. You'll be in a new role, which depending on the institution/rotation, can vary. A fellow can function as the workhorse for seeing patients, serve as the lead of a large multidisciplinary team, or be perched between the residents and attendings in a nebulous gray zone. Finding out what the expectations are for you will help you define your role, whether that information comes at orientation or from current fellows. But do not forget about setting expectations for your learners too. If you expect residents to present formally to you or expect them to wait and present to both you and the attending, let them know. Do not underestimate the importance of setting expectations as we should not assume others are on the same page.
5. Delegate.
Establishing expectations and defining your role then sets you up to appropriately delegate. This is multifold in your new role as a pulmonary and critical care medicine fellow. In the outpatient setting, you will need to delegate certain things you used to manage back to a patient's primary care provider. (I.e. Unless you're counseling about ACE inhibitor induced cough, paws off their antihypertensives!) In the inpatient setting, your new role is to enable the residents to care for ICU patients so you should support them properly but not micromanage. These new roles can be uncomfortable and the dividing lines can be mobile, so communication is the key!
6. Identify mentors.
The suggestions laid forth thus far are not easy to accomplish, especially when you're navigating new ground. Therefore, establishing a support system is crucial.  Besides the support of your loved ones, the support from your mentor(s) is of utmost importance. Keep an eye out for mentor(s) right away, but do not feel obligated to commit until you feel certain this will be a beneficial relationship, as it's best not to waste anyone's time. Mentor(s) can be located within your specialty, your division, and your institution, or none of the above, so keep an open mind! Once you locate your mentor(s), do not expect them to fulfill all roles. In fact, you should have multiple mentors and create a mentor network for yourself. Career mentorship, professional development mentorship, and research mentorship will likely come from several different individuals. Identify these individuals, ask if they would be willing and able to serve as a mentor to you, and then set expectations for your mentor-mentee relationship. If you have not yet rounded out your mentor network, check out the ATS Mentoring Program, the SCCM Mentorship Program Toolkit, or other similar resources.
7. Identify sponsors.
A common misconception is that mentor is synonymous with sponsor. Mentors can also serve as sponsors, but the Venn diagram is in fact not a circle, as detailed in this article by radiologist Dr. McGinty. If a mentor is a coach who critiques and guides you, then a sponsor is a cheerleader. A sponsor highlights your best attributes and nominates you, either formally or informally, for a variety of opportunities. Sponsors are important because they often know of opportunities you do not, whether it is a career opportunity you should not miss or a position that will go quickly. You are new to this field of pulmonary and critical care and need someone to vouch for you. There is no shame in this because you are still required to follow through on the opportunities presented to you. The most important way you can help others sponsor you is by communicating your interests and career plans, so do not be afraid to speak up and capitalize on these opportunities as they arise!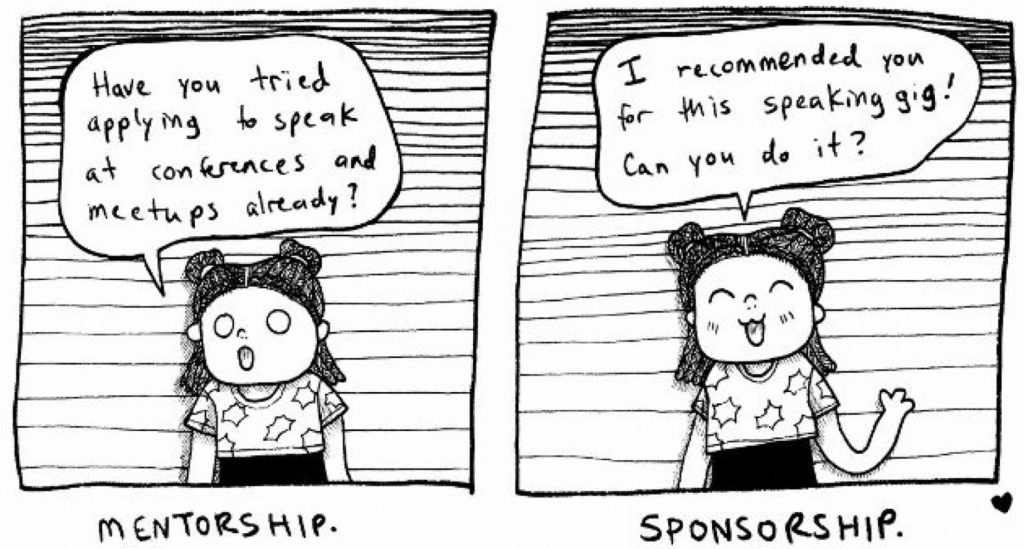 Illustration by Catt Small in blog post by Lara Hogan, entitled "What Does Sponsorship Look Like?"
8. Seek out opportunities in national committees and organizations.
Use your mentors, sponsors, and peers to identify committees and organizations pertinent to you and your burgeoning career. This will allow you to collaborate on interesting projects in the short term and will also serve you well down the road when seeking academic promotion, as recommendations from individuals outside your own institution are vital. The main national organizations for those in pulmonary and critical care medicine to be aware of include American College of Chest Physicians (ACCP, who hosts the annual CHEST meeting), American Thoracic Society (ATS), and the Society of Critical Care Medicine (SCCM). However, this is not an all-inclusive list, as there are additional committees and organizations that are either independent of these or nested within these. Rely on your mentors and sponsors to help you find your people, or peruse their websites starting with the ATS Apprenticeship Programs and CHEST Committees. But be advised that persistence is important, as it often takes multiple tries to be accepted into these roles!
9. Know that transition is tough.
While you are navigating everything mentioned here, and more, know that you are not alone. The shift from residency to fellowship may seem like a cakewalk since you are already a trainee, but it is still a transition. There are new responsibilities and expectations. You will be asked to immediately start envisioning and crafting a career for yourself. You may feel more isolated in your role as a fellow compared to the camaraderie you experienced as a resident. All of these factors may coalesce and trigger impostor syndrome or predispose to burnout. Self-compassion, mindfulness, and self-care will help mitigate this risk, but you should still make every effort to recognize and acknowledge signs of fatigue, burnout, and depression in yourself and your colleagues. Lean on your support system and do not hesitate to reach out for professional help.
10. Celebrate!
You have now joined a remarkable field and are surrounded by fantastic colleagues. We are happy to have you.
References:
Dahle J. The White Coat Investor. The White Coat Investor – Investing & Personal Finance for Doctors. https://www.whitecoatinvestor.com/. Accessed January 19, 2020.
Protect Your Move. Federal Motor Carrier Safety Administration. https://www.fmcsa.dot.gov/protect-your-move. Published May 6, 2016. Accessed December 16, 2019.
Resident Boot Camp. American Thoracic Society. https://www.thoracic.org/professionals/career-development/ats-scholarships/resident-boot-camp.php. Accessed December 16, 2020.
ATS Mentoring Programs. America Thoracic Society. https://www.thoracic.org/members/assemblies/ats-mentoring-programs.php. Accessed January 19, 2020.
SCCM Mentorship Program Toolkit. Society of Critical Care Medicine (SCCM). https://www.sccm.org/News/2019/SCCM-Mentorship-Program-Toolkit. Accessed January 19, 2020.
Mcginty G. Choosing Wisely: Mentors, Sponsors, and Your Kitchen Cabinet. Journal of the American College of Radiology. 2017;14(12):1637-1638. doi:10.1016/j.jacr.2017.07.006.
Hogan L. What does sponsorship look like? Lara Hogan. https://larahogan.me/blog/what-sponsorship-looks-like/. Published May 14, 2017. Accessed January 19, 2020.
ATS Apprenticeship Programs. American Thoracic Society. https://www.thoracic.org/members/assemblies/ats-apprenticeship-programs.php. Accessed January 19, 2020.
Committees | Leadership & Governance. American College of Chest Physicians. https://www.chestnet.org/About/Leadership-and-Governance/Committees. Accessed January 19, 2020.
Chandra S, Huebert CA, Crowley E, Das AM. Impostor Syndrome. CHEST. 2019;156(1):26-32. doi:10.1016/j.chest.2019.02.325.
Maslach C, Leiter MP. New insights into burnout and health care: Strategies for improving civility and alleviating burnout. Medical Teacher. 2016;39(2):160-163. doi:10.1080/0142159x.2016.1248918.