"How many today?" I ask.
"Just four" comes the reply.
My heart sinks.
Ugh, again! Out of 16 fellows, only four thought a wellness hour of facilitated discussion with a dedicated clinical social worker (SW) with healthy snacks was worth their time. This triggered self-doubt and frustration characteristic of starting newprograms and endeavors in addressing trainee wellbeing.
We knew we were ahead of the curve when, more than a year before the ACGME released its mandate for incorporating wellness curriculum in training programs, we had already piloted our wellness curriculum. What we didn't know was how hard it would be to operationalize it. The inconsistent and low attendance felt like a letdown after fighting an uphill battle to secure divisional leadership approval, dedicated space, and funding for a wellness hour. Here we share in seven steps the process of piloting a wellness curriculum in our PCCM fellowship program (Pilot Phase) and, based on lessons learned, tips for successful implementation (Implementation Phase).
Pilot Phase
Step 1: Obtain approval from divisional leadership, secure a dedicated space and funding for snacks.
We cited the ACGME common program requirements for wellness and data gathered from prior year's ACGME Resident Survey to pitch the need for a wellness curriculum with our divisional leadership, but had freedom in curricular material development. We petitioned the divisional administrator for a nominal budget for catering healthy snacks. We then enrolled a dedicated clinical SW to help develop curricular materials and facilitate discussions. The SW salary support came from a philanthropic grant through the faculty practice but she billed our institutional GME office for the sessions. This office typically covers SW-led facilitated discussion sessions throughout the hospital. Request for IRB exemption was granted.
Step 2: Develop a baseline survey.
We administered the survey (Figure 1) anonymously prior to the start of the wellness curriculum to trainees. Our survey questions are noted below and were administered using redcap with a combination of Likert scale-type multiple choice answer options and free text. (Figure 1)
Step 3: Develop topics for facilitated discussion.
We chose these topics based on our judgement of what would be considered high yield and relevant for trainees based on a literature review. We referenced the following articles for curricular development: https://jamanetwork.com/journals/jamainternalmedicine/fullarticle/1828744 https://jamanetwork.com/journals/jama/fullarticle/184621
We utilized the following publicly available sources and modified them to suit our needs:
https://self-compassion.org/test-how-self-compassionate-you-are/
https://self-compassion.org/category/exercises/
http://socialwork.buffalo.edu/content/dam/socialwork/home/self-care-kit/self-care-assessment.pdf
http://socialwork.buffalo.edu/content/dam/socialwork/home/self-care-kit/lifestyle-behaviors.pdf
http://www.taproot.com/archives/37771
www.indigodaya.com/wpcf7_captcha/2019/04/Coping-skills-flyer-v5_Indigo-Daya.pdf
The topics developed for facilitated discussion included:
Empathy
Mindfulness
Gratitude
Self-compassion
Burnout
Meaning in work
Positive psychology
Sustainable wellness
Stress management
Grounding
Constructive communication
Resilience
Seasonal stressors
Step 4: Create handouts for distribution to fellows.
Utilizing above-mentioned sources, as well as materials from our SW's training in dialectical behavior therapy, we created handouts for every session pertaining to that day's discussion topic.
Step 5: Utilize a structured format for facilitated discussion.
The designated SW roughly utilized the below format during weekly one-hour sessions. (Table 1)
Table 1: Structure of Facilitated Discussion Session
| | |
| --- | --- |
| First 15 mins | Check-in, a quick mindfulness exercise |
| Next 30 mins | Share materials regarding the topic of the day (present slides, give handouts, foster discussion with group or pair-shares) |
| Last 15 mins | Open forum for discussion and reflection |
An example of a quick mindfulness exercise called "Square Breathing" is as follows (asdresources.wordpress.com):
Figure 2: Square Breathing exercise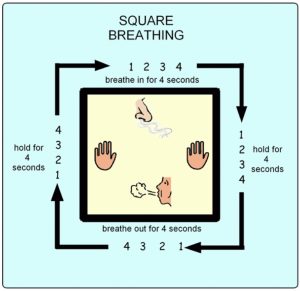 This pilot was trialed for eight months with weekly one-hour sessions held mid-afternoon with a single dedicated SW. Attendance was purely voluntary but anonymously tracked. Although this was not protected time, fellows were encouraged to attend when their clinical rotation permitted. Also, fellows on elective rotations and research blocks were free to attend at will. An e-mail reminder containing the topic for that week was sent from the program director to the fellows a week before and a day before each session. The SW sent a reminder mass-text to the fellows the day of each session. Healthy snacks were provided.
Step 6: Administer post-curriculum survey and solicit feedback.
The same survey questions were asked again, including a free text question regarding barrier to attendance.
Step 7: Identify barriers to attendance.
Thirteen out of 16 PCCM fellows responded to the post-curriculum survey. The post-curriculum survey revealed a 16% increase in the number of fellows engaging in self-care activities such as exercise, adequate hours of sleep and implementing mindfulness practice. There was a 23% increase in trainees feeling recognized for their contributions. A 12% decrease in number of trainees expressing work-related stress was noted. However, there was no change in number of trainees noting satisfaction with work-life balance or in finding work meaningful.
Findings: The biggest barrier to attending wellness sessions as reported by trainees was related to time, including patient care responsibilities, heavy clinical rotation and personal responsibilities. We knew time crunch would be our biggest enemy. But, could there be other barriers to attendance? Is it the format, the topic, the time of the day, the activity or lack of interest?
Implementation Phase
Step 1: Set expectations at orientation of new class of fellows.
At the start of the next academic year, we introduced the SW to incoming fellows at Orientation day as part of "Introduction to Wellness Curriculum."
Step 2: Incorporate trainee feedback from the Pilot Phase.
Over the next two years we trialed different times of the day, different days of the week, and different frequencies (weekly vs. biweekly vs. monthly) to test attendance and interest.
Step 3: Repeat Steps 4 and 5 from above Pilot Phase.
We kept the topics and format for facilitated discussion unchanged utilizing the same SW.
Findings: Attendance noticeably increased with modifications to time slots, day of the week, and frequency of well-being sessions. We found that 1) sessions held during lunch hour resulted in higher attendance and engagement compared to mid-afternoon, 2) the best day to hold these sessions was one that coincided after fellows morning clinic, and 3) the optimal frequency was monthly (rather than weekly or biweekly).
One of the benefits observed through the wellness sessions was increased social support within fellowship. The fellows informally expressed that due to being siloed in separate clinical rotations there is often limited opportunity for them to engage with one another. This group created the ability to share with one another common challenges, provided a bonding experience, and received peer support on a weekly basis.
In conclusion, burnout has been a growing area of concern impacting PCCM physicians, both professionally and personally. Junior physicians, including fellows-in-training, have been identified as a population at risk of developing burnout due to the stress and demands associated with training. The need to increase social support systems, both personally and collegially, has been recognized for physician trainees. Part of graduate medical education includes developing habits and skills a physician will use throughout their career. From our pilot phase we learned that the time of day, day of the week, and frequency of wellness sessions should be customized to the structure and schedule of a specific training program in order to reach the largest possible number of trainees. The flow chart below summarizes our operations. (Figure 3)
Fellowship training presents an ideal opportunity to provide education and facilitate development of adaptive behaviors to cope with stress and decrease burnout. We recognize that each fellowship program will have different needs based on the program structure and specific trainee stressors. Hence, based on our successful experience, we encourage all PDs to partner up with available institutional GME resources or SW who have requisite skillset to handle the complexity of physician wellness. Our successful program implementation also teaches the PD community to persist and not give up! After all, it has been said "success is stumbling from failure to failure with no loss of enthusiasm."
Figure 3: Operationalizing a Wellness Curriculum in PCCM Fellowship